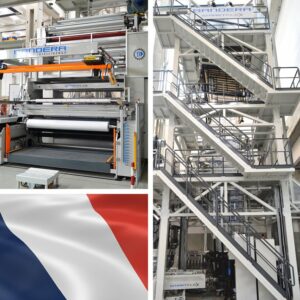 In 2016, a new law entered into force in France, prohibiting the selling and distribution of non-biodegradable-polyethylene-based disposable bags with thickness lower than 50 microns. Consequently a French converter decided to invest in a new project which includes the purchase of a Bandera SmartFlex® Bio line for the production of biodegradable and compostable bags mainly made in plant origin polymers.
Bandera has always been sensitive to environmental care and continues to support it with a strong dedication. This is evident in our collaborations with suppliers of biodegradable and compostable materials and in the sale, especially in Western Europe, of equipment processing bioplastic-based materials, such as corn starch and PLA (polylactic acid).
Besides biodegradable film, this line can also produce thermo-shrink, lamination & converting and general packaging film. The equipment, which will be installed in the French region of Rhône-Alpes, can get a net film layflat up to 2200 mm (already trimmed), a thickness range from 15 to 200 μm and an output up to 400 kg/h with a Ø 300 mm die.
Line main components:
12-component batch dosing system
1 extruder Ø 65 mm for core layer and 2 extruders Ø 50 mm for side layers
Co-extrusion 3-layer die head with Ø 300 and 180 mm dies and IBC system
High efficiency dual lip cooling air ring
Automatic film thickness measuring and adjusting system
2 bubble guiding cages
Rotating haul-off 2400 mm roller face width with gusseting boards and flattening device with rollers and wooden slats (pneumatically driven device to insert one of the two systems alternatively when needed)
Web centre guide
Double station back-to-back winder with surface/combined modes
Tower frame for rotating haul-off
Line control with Bandera IoE Internet of Extrusion® software
For further information, please contact Mr. Marco Serra, Senior Sales Area Manager – m.serra@lbandera.com
@banderaontheweb
@house_extrusion