Ida Tian (Shujing) is the chief representative of Bandera Beijing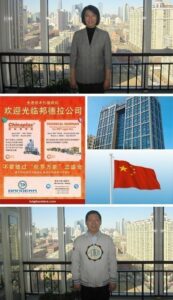 Representative Office and sales manager for China and Far East Areas. Since the establishment of Bandera first Direct Office, Ida Tian (Shujing) has been successfully working in coordination with our potential customers in the marketing promotion of Bandera updated extrusiontechnology mainly dedicated to packaging and converting Industry.  
She worked hard to make Bandera well-known in blown film line technology for the production of FFS bag film, Stretch Hood, Special film with "know-how" for aviation and wind power application, agrifilm (high output, multilayer, width more than 22 m, special extrusion heads with a diameter of more than 2,600 mm) and thick geomembrane film for use in civil and industrial waterproofing systems with very good successful updated references in China.
Meanwhile as objectives for next 5 years , Bandera headquarter team and Chinese operative personnel ( including experience Service Engineer Mr. Frank Cao ) are putting much efforts in the promotion of latest Bandera Sheet extrusion lines with patented co-rotating twin screw technology for special application of lenticular sheet, film for furniture or credit card sheet as well as the packaging industry by using 100% recycled PET materials to produce both rigid sheet or foam sheets and ridged film while light-weight is needed for both cost-effective or environmental protection.
Top of this deep promotion activity will be the ChinaPlas Exhibition in Shanghai (2014-04-23-2014-04-26 – HALL  E2-D59) where Bandera will show up not only the latest blown film lines but has organized a dedicated Seminar ( 2014-04-25 – 10:00-12:00 am – HALL E2-I/F) to the innovative technologies of extruding rigid PET films.
China has been always an important market for Bandera and the local converters can rely on very efficient technology and excellent after sale service.